This year the XIX edition of Soldat de Plom was held again in Girona. The theme of this year was the war of 1714 fought in Barcelona, now 300 years ago. The figure for this year was sculpted by Antonio Zapatero and painted by Joan Masferrer.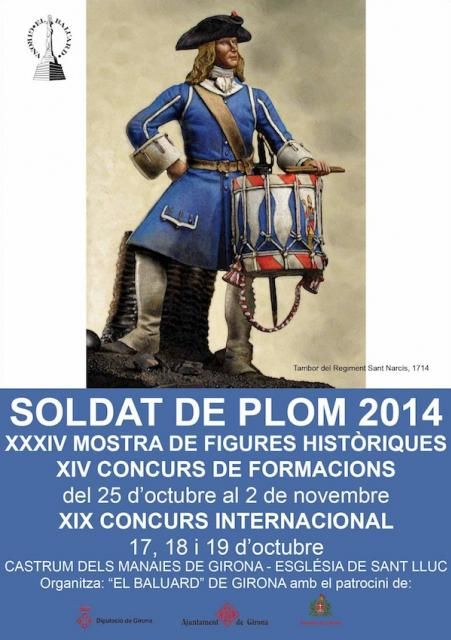 My addition to the show of this year was the cantinera named Clara de Mas i Duran (1714), which was sculpted and painted by me.
On Friday evening just after work I went to the show which was held again in the church of Sant Lluc. It was great to meet all the Spanish, French, German and Italian friends who are coming almost every year. And this year I also was pleased to meet Pedro from Portugal who I know from planetfigure and my friend Dick from the Netherlands who I didn't see for over two years now. It was great to chat a bit in dutch again.
On Saturday and Sunday you could see the demonstrations of the masters in either painting, sculpting or building groundwork by Marc Masclans, Adriano Laruccia, Louis Dorio, Antonio Zapatero and Alfonso Prado.Where they were shared their techniques and tips, (thanks for the bag of resin Alfonso!). Furthermore you could spend your time to admire lots of great figures, a little less than other years probably due to the world expo which was held in Stresa this year. And during the rest of the days having a great time by chatting drinking and eating with my friends.
On Sunday the show was closed as usual with the award ceremony. My son could pickup his second medal in junior class and I won this year a bronze in master open.
The best of sho
w fantas

y of thi

s year went to
Bruno Lavallée
and the best of show historical went to the duo
Antonio Meseguer y Gustavo Gil
.
I was a great show and hopefully until next year!!!
Cheers,
Marcel.